This post is an overall summary of old logs from 2017.
Who's Jack Frost?
** Contains spoilers **
Known for his snow-filled pranks, Jack Frost (RotG) is a boy-like supernatural being who was chosen by the Man in the Moon to be a Guardian of Childhood.
During the course the Return of the Guardians (RotG) movie, we're told that Jack actually started his life as a human boy, but he died to save his little sister from drowning in an iced lake.
That's why he was promoted to Guardian — because of his selfless act.
Guardians of Childhood include the Man in the Moon, North (Santa Claus), Toothiana (the Tooth Fairy), Sandman and the Easter Bunny.
You can read more about Jack Frost (RotG) at Fandom.com.
The reason why I decided to create a character representing Jack Frost (RotG) in The Gearshift Family is because of my friend (and artist) Luana's motherlove for Jack Frost.
I thought it was the perfect way to make her dream come true in writing with an original character that would still retain a few traits of the character he was inspired from.
Also, it was a wonderful creative exercise for me, and a way to grow The Gearshift Family continuity.
Who's Jacob "Iceheart" from Meravilla (The Gearshift Family)?
He's this guy with a heart-shaped shepter in the featured image who's also hugging Luisa Polini Gearshift in this other drawing:
Jacob is my original character and he's meant to be
a "representation" of Jack Frost in my The Gearshit Family stories, and
a character that's closely linked to the imaginary world of my childhood, Fantaland, that I created when I was four.
Meravilla is a planet that was once a paradise
People kept their inner child alive and both adults and children adhered to a lifestyle of innocence, goodwill, and hope.
But those who had been on visit on outside worlds had returned with ideas of manipulation, self-interest and greed that had slowly corrupted people's hearts to such an extent the Keepers of Innocence, a hundred of magical beings scattered all around the planet – who were created by their Mother Goddess in the down of times to protect Meravilla's very adoration of Innocence, and their lifestyle – in a last attempt to save her people from the corruption of hearts, built a fortress that extended for kilometers, surrounded by cold snow storms, strong wind and fog to keep the place away from anybody who didn't have enough of a pure heart and hope to find beauty even in that unkind weather – and reach the fortress.
The fortress itself is only a "container": inside of it, the visitor enters another dimension, a small world where the original beauty of Meravilla stays intact, with all its magic, its wonders and all the adults and children who chose an uncorrupted life.
Stationed at the entrance Gates, Jacob is one of the six Keepers who decide who can enter and who cannot
He and the other Gate Keepers are nicknamed "Iceheart", because they were born as creatures of the snow (to survive the cold environment their mission demands) and because of the sword-like scepter they carry, that gives them the power to scrutinize visitors' hearts and find out whether they are worthy of accessing Innocence City through the Gates.
Jacob also has the power to share thoughts and memories in the form of pure meanings and images via the touch of his fingertips (to another person's), and he can fly like all the Keepers.
So Jacob (later shorted as "Jake" in the stories) is the union of my childhood dream world and RotG's Jack Frost, and the journey Luisa Polini takes in the story, as a mom and as a child-at-heart, through the secret Innocence City, is very much one of self-identity for me and one of motherhood for Luana (who is almost a co-author to this story).
Lu's "a mother soul with a child's heart" and I am "a forever child through and through", and the reason why we often feel so outside of this world and society. (Not that I care, I am who I am, I can't and won't change to make others happy – and I took a sort of oath to myself that I'd protect my own inner child forever. My buddy Lu sorta did the same.)
If you decide to read this story when I publish it, you will learn more about me as a person. Of course, this is also the story of how Luisa met Jacob "Iceheart" and became his mom (and that's the part that Luana inspired).
I'm working on this story on the side, because my main effort these days is to continue writing
The Undeserving
and
Foundation
(
Rolamaton Tales
) and fix the old
Rolamaton
stories.
Update from 15 June 2017
My friend has been doodling and sketching more Meravilla pictures for me – this one of Jacob hugging his newly adopted brother Pete is my favorite so far (this one is set in 2017, so Jake had a haircut and is wearing ordinary Earth clothes):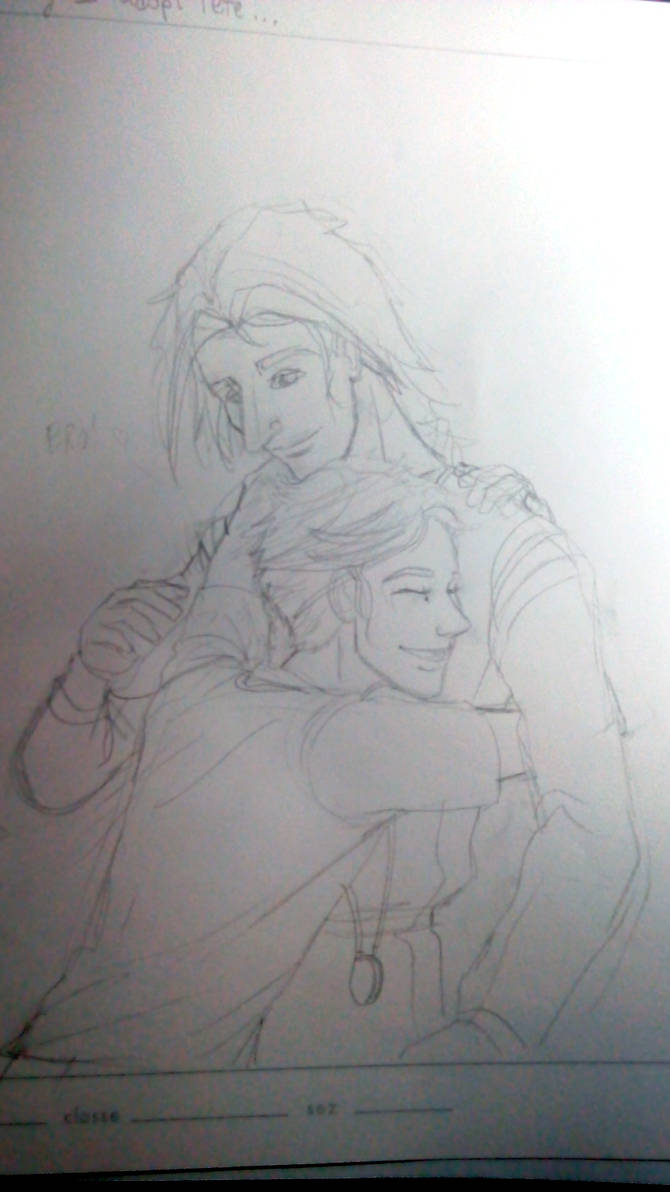 Yeah, the lil' word Jake says is "Bro! <3".
She also penciled a picture of Jacob and Pete cosplaying as Jack Frost and Pitch Black from Rise of the Guardians, but it's too funny to spoil it here, so I'm going to finish it first and then I'll upload her finished artwork to my gallery.
Well, given that Jacob represents Jack for me, and Pete represents Pitch, the cosplay picture IS meaningful and very important to me.
Maybe I'll add Starlyn as well (to represent Sandman) once I fully developed the character – Starlyn is magic fairy-like being from Meravilla, of course.
About "representations" and the "transferred motherhood", I'm applying my friend artist's philosophy explained here.
Thanks for reading!